Filing a Wrongful Death Claim in Pennsylvania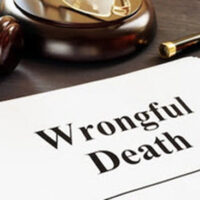 Although many people are fortunate enough to escape serious accidents with only minor injuries, or in some cases, no injuries at all, some are not so lucky and may even tragically lose their lives. While recovering damages from the at-fault parties who cause these accidents can never truly compensate a person for the loss of a loved one, it can go a long way towards helping grieving families pay off medical debt and begin the long process of recovery. Unfortunately, filing this type of claim is notoriously difficult, so if you recently lost a loved in an accident resulting from someone else's negligence, it is critical to speak with an experienced Wilkes Barre wrongful death lawyer who can help give your claim the best possible chance of success.
Defining Wrongful Death
Under Pennsylvania law, a wrongful death is defined as any death that is caused by someone else's wrongful act, neglect, unlawful violence, or negligence. Wrongful death claims are essentially personal injury suits that, if the deceased party had survived, he or she would have been able to file against the person who caused the accident. In these types of cases, however,  the decedent's family members must file the suit on behalf of the party who lost his or her life in the accident. Unlike criminal claims, wrongful death lawsuits do not result in jail time or a criminal record for defendants, but in damages awards that are intended to compensate grieving families for some of their monetary losses.
Who Can File a Wrongful Death Claim?
Wrongful death claims can only be filed by the personal representative of the deceased party's estate, who brings the claim on behalf of the decedent's loved ones. It is important to note that if a personal representative fails to file a wrongful death claim within the state's two year deadline, then a decedent's surviving spouse, children, or parents can file the claim on behalf of those beneficiaries.
Wrongful Death Damages
In wrongful death suits, the at-fault party's liability is expressed only in terms of monetary damages, which are intended to compensate the deceased's family for:
Funeral and burial costs;
Hospital and medical bills;
Lost wages and benefits, including the amount that the deceased could reasonably have been expected to earn if he or she had lived;
Compensation for the beneficiary's loss of companionship, support, physical comfort, and moral guidance;
Estate administration costs; and
The pain and suffering endured by the decedent before his or her death.
Certain damages, including compensation for loss of comfort and companionship are only available in cases where the decedent left behind a surviving spouse, children, or parents. Compensation for funeral and burial expenses, medical bills, and estate administration costs, on the other hand, are intended to repay the estate for the costs related to the decedent's untimely death. For this reason, a decedent's personal representative can seek these damages in court even if the deceased has no surviving relatives.
Schedule a Free Consultation with an Experienced Wilkes Barre Attorney
To learn more about filing a claim against the person or entity who caused your own loved one's serious injury or death, please contact dedicated wrongful death lawyer Keith Figured at the Figured Law Firm. You can schedule an initial consultation with a member of our legal team by calling 570-954-9299 today.
Resource:
pacode.com/secure/data/231/chapter2200/s2202.html