Most Common Types of Workplace Accidents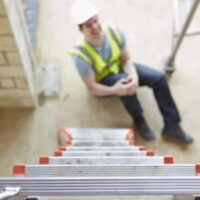 Workplace accidents occur for a variety of different reasons, including everything from safety violations and a lack of employee training to third party negligence and acts of violence. The type of accident in which an employee is involved varies depending on the industry in question. It is, for example, much more likely that a contractor will suffer a fall from scaffolding while inspecting a building than it would be for a receptionist who works behind a desk. The latter, on the other hand, may be more at risk of suffering from repetitive strain injuries, such as carpal tunnel syndrome from hours spent working at a keyboard.
Unfortunately, thousands of employees are injured, across a wide range of industries, every year. We've included a list of the most common accidents below, but these are by no means the only ways in which a person can be injured at work, so if you suffered a workplace injury and have questions about methods of recovery, you should contact an experienced workers' compensation lawyer who can advise you.
Slip and Fall Accidents
Surprisingly, slipping, or tripping and falling top the list of the most common workplace accidents. While the injuries suffered by many workers who find themselves in this position are minor, it is also not uncommon for an employee who slipped and fell to suffer serious injuries, such as head trauma, broken bones, and herniated discs. Most slip and fall accidents can be attributed to one of the following problems:
Wet floors;
Loose rugs or carpets;
Poor lighting;
Cables and cords;
Cluttered work spaces; and
Uneven flooring.
Whatever the cause of your slip and fall accident, you will most likely be eligible for workers' compensation. Please contact our legal team today to learn more about filing your own claim.
Falling Objects
Injuries caused by falling objects are also surprisingly common and not only amongst warehouse and construction workers. Falling objects always pose a risk to anyone working below, whether it be an office worker restocking a shelf, a warehouse employee loading heavy cargo, or a construction worker who is struck by a falling tool. Warning employees of this hazard, hanging signs in dangerous areas, and requiring certain employees, namely those who work at building sites, to wear hard hats are some of the best ways to avoid serious injury from a falling object. Unfortunately, despite taking these measures, hundreds of employees are injured by falling objects in Pennsylvania every year.
Repetitive Strain
Many workplace injuries are not the result of one significant act, but of repeated overuse. In fact, repetitive strain injuries have become increasingly common amongst employees who tend to complete the same task over and over on a daily basis. Those who type for hours at a time every day, for example, run the risk of straining their wrists. Employees who must lift heavy objects, however, may be more likely to suffer from back pain and problems with their joints.
File Your Workers' Comp Claim Today
If you were hurt at work, you are most likely entitled to workers' compensation benefits. Please call the Figured Law Firm at 570-954-9299 today to speak with dedicated Wilkes Barre workers' compensation lawyer Keith Figured about filing a claim for compensation.
Resource:
medicalnewstoday.com/articles/176443.php
https://www.figuredlaw.com/workers-compensation-death-benefits/