Parking Lot Accidents in Pennsylvania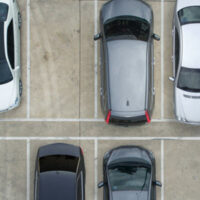 When we hear the term car crash, many of us imagine collisions on the freeway or at intersections. While it is true that these types of collisions occur at an alarming rate across the country, a number of car crashes take place in much less obvious places, such as parking lots and parking garages. Although parking lot accidents don't usually occur at high speeds, they can still result in serious injuries and significant property damage, so if you were recently involved in a parking lot accident, whether as a driver, passenger, or pedestrian, it is important to contact an experienced Wilkes Barre auto accident lawyer who can help you seek compensation for your collision-related losses.
Parking Lot Hazards
Parking lots and garages contain a variety of hazards that can cause accidents, including:
Inferior lighting;
Tight corners and sharp turns;
A lack of traffic signals and signs;
Poorly marked parking lanes; and
Potholes or a buildup of ice or snow.
Even careful drivers can cause accidents when these types of conditions exist. However, it is distracted driving that has been linked definitively to the majority of parking lot accidents. In fact, the National Safety Council estimates that around two-thirds of all motorists who enter parking lots do so while distracted. Distracted driving, while always dangerous, is especially risky in parking garages and lots, where slower speeds tend to give pedestrians and drivers alike a false sense of security.
Proving Fault
Determining who was at fault for a parking lot accident can be difficult, as a number of different parties could be involved. If, for instance, an accident is linked to a parking lot's poor design, the property's owner could be held at least partially liable for accident-related losses, while a negligent driver who failed to check his or her surroundings before backing out could also be found partially responsible for a collision. In fact, an injured party could also be held partially at fault for a collision if his or her negligence contributed in some way to the accident.
This does not, however, mean that the injured party would be barred from recovering compensation. This is because Pennsylvania is a comparative negligence state, which means that injured parties who contribute to their own accidents can still collect compensation for their losses, but will have any damages awards reduced by their own percentage of fault in causing the accident.
Regardless of which parties were at fault for an accident, providing convincing evidence to a court will be crucial to the recovery process. Evidence obtained from security cameras can be extremely helpful in these situations, as can data from in-vehicle technologies, photographs from the scene of the accident, medical records, and eyewitness testimony.
An Experienced Auto Accident Lawyer in Pennsylvania
If you were recently injured in a parking lot or garage and believe that your injuries were the result of someone else's negligence, you need the advice of an experienced Wilkes Barre car accident attorney. To speak with a member of the dedicated car accident legal team at Figured Law Firm about your questions and concerns, please contact us online at any time or call us at 570-954-9299 for a free case review.
Resource:
cbsnews.com/news/parking-lot-accidents-distracted-drivers-national-safety-council/
https://www.figuredlaw.com/recovering-compensation-for-injuries-and-property-damage-sustained-in-sideswipe-collisions/