Recovering Compensation for Injuries and Property Damage Sustained in Sideswipe Collisions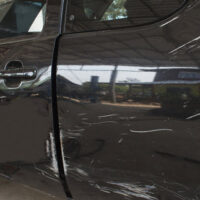 When ranking the most dangerous types of car accidents, sideswipe collisions rarely enter the conversation. That does not mean, however, that sideswipe collisions should be totally discounted, as they do have the potential to cause significant vehicular damage and serious injuries. Unfortunately, it can be difficult to determine whether a person has a claim against another motorist who sideswiped his or her vehicle, so if you were involved in this type of accident through no fault of your own, it is important to contact an experienced Wilkes Barre auto accident lawyer who can explain your legal options.
What Qualifies as a Sideswipe Collision?
Most people are aware that sideswipe collisions, like its name suggests, involve one vehicle scraping alongside another. Those who have been involved in these types of crashes, however, know that sideswipe crashes are often more complicated than this description suggests. For instance, while it is true that in most cases, these crashes occur between two vehicles that are traveling in the same direction and in parallel lanes, this is not always true, as some sideswipe crashes occur when two vehicles nearly miss a head-on collision, or when a driver attempting to navigate a turn at an intersection strikes another car.
These accidents, although usually attributed to human error, also have a number of different causes. For instance, most sideswipe crashes can be attributed to a driver's negligence. Common examples include everything from a driver's failure to compensate for blind spots and forgetting to check his or her surroundings before changing lanes to driving while inebriated or falling asleep at the wheel.
Sideswipe Accident Property Damage
Sideswipe accidents tend to result in more property damage than most people realize. This is especially true when the two vehicles involved are of different sizes and one of the vehicles has a higher profile and a heavy or protruding bumper. While these characteristics often work in the favor of the driver of the larger vehicle, they can also result in serious injuries and property damage for smaller vehicles. When one of the vehicles is much larger than the other, for example, it is not uncommon for the larger car's extended bumper or reinforced sides to come into contact with the smaller car's windows and lesser-reinforced upper areas.
Accidents that involve full side engagement also tend to result in serious damage along both vehicles' sides. Aside from these factors, the speed at which two vehicles were traveling prior to impact also determines the severity of the injuries sustained. Fortunately, the at-fault parties who cause these kinds of crashes can often be held liable for their negligence and required to compensate injured parties for vehicle repair or replacement.
Contact a Wilkes Barre Car Accident Lawyer
To speak with an experienced car accident attorney about recovering compensation for your own sideswipe accident-related losses, please call the Figured Law Firm at 570-954-9299. There is no charge for initial case evaluations, so please don't hesitate to call or contact us online with your accident-related questions and concerns.
Resource:
nhtsa.gov/sites/nhtsa.dot.gov/files/811147.pdf
https://www.figuredlaw.com/the-dangers-of-improper-road-maintenance/