Reports of Distracted Driving in Philadelphia Reach Alarming Levels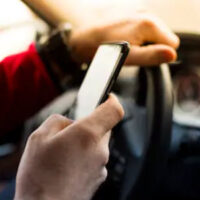 Philadelphia, as one of the busiest cities in the state is regularly inundated with reports of distracted driving. In fact, in one recent report, Philadelphia was ranked as the third least focused state in the country, with drivers much more likely to use their phones while driving than in other cities. Unfortunately, distracted driving is notorious for significantly increasing a person's chances of being involved in an accident. Furthermore, the injuries sustained in distracted driving crashes also tend to be more serious, with drivers failing to hit the brakes or swerve out of the way until it is too late to make a difference.
It is, however, possible to collect compensation from at-fault drivers who cause collisions through their own distraction and carelessness, so if you were recently involved in an accident that you suspect was the result of distracted driving, you should speak with an experienced Wilkes Barre auto accident lawyer who can help you seek compensation for your losses.
How Serious is the Problem?
The aforementioned study, which was released by the Root Insurance Company last year revealed that Philadelphia drivers are some of the most distracted in the nation. For instance, according to the study, the average driver is distracted for around eight percent of the miles they drive, checking their phones approximately 17 times every 100 miles. In Philadelphia, however, drivers look to their phones as many as 23 times over the same distance. These statistics led the group to rank Philadelphia as the third least focused city in the U.S., a trend that poses a real risk to motorists in the state.
Distracted Driving Laws in Pennsylvania
In an effort to curb the number of distracted driving-related crashes in the state, Pennsylvania lawmakers enacted legislation that prohibits motorists from texting while driving. Unfortunately, many drivers still fail to comply with the law, while others engage in other activities that are as distracting (and as dangerous) as texting while driving. Fortunately, when accident victims have evidence that a person was violating the ban on texting or was otherwise distracted at the time of an accident, he or she could be entitled not only to compensation for lost wages and medical bills, but also for pain and suffering and emotional distress.
Proving that a driver was distracted, however, can be difficult, as it often requires recordings from traffic cameras, photographs from the scene of the accident, the police officer's accident report, the driver's cell phone records, and other convincing evidence. To learn more about the types of proof that you might need to successfully file your own distracted driving claim after an accident, please contact our legal team today.
Contact Our Office for Legal Assistance
If you were injured in an accident caused by a distracted driver and have questions about your own recovery options, please don't hesitate to call experienced Wilkes Barre auto accident lawyer Keith Figured at the Figured Law Firm today for assistance. We can be reached at our office by calling 570-954-9299 or via online message.
Resource:
inquirer.com/news/distracted-driving-texting-phone-car-awareness-month-20190405.html
https://www.figuredlaw.com/will-the-covid-19-emergency-affect-my-car-accident-case/