Treatment Options For Work-Related Repetitive Stress Injuries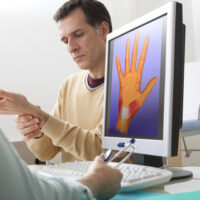 Repetitive stress injuries are much more common amongst Pennsylvania workers than most people know. Although they are sustained in a wide range of scenarios and industries, they are all the result of the overworking of certain body parts, like the hands, shoulders, and back. Repetitive stress injuries are not only painful, but can also restrict mobility for years to come, making it especially important for injured workers to seek out treatment as soon as possible. While this treatment should be covered by the state's workers' compensation system, obtaining benefits isn't always easy, so if you were recently diagnosed with a work-related repetitive stress injury, you may want to speak with an experienced Wilkes Barre workers' compensation lawyer about filing a claim.
What are Repetitive Stress Injuries?
Repetitive stress injuries, which are also often referred to as repetitive motion injuries, are injuries to the muscles, ligaments, nerves, and tendons that are caused by performing the same motion repeatedly. These injuries are painful and can also cause numbness, loss of motion, decreased flexibility, and reduced strength. They often worsen over time without treatment and can result in a complete loss of function.
Stress Reduction Therapy
Most repetitive stress injuries begin with soreness that indicates the development of a more serious problem. Fortunately, these symptoms can often be reduced through rest and modifying methods of movement. The problem with this type of treatment is that it isn't always possible to completely rest an overworked body part, at least for the amount of time required to heal. When stress reduction therapy isn't effective, injured workers may need to start taking medication.
Medications
Taking certain medications is also a potential treatment option for those suffering from specific repetitive stress injuries. This includes the use of anti-inflammatory medicines and pain receptor-blocking medications. Many pain medications, however, are highly addictive, making most medications a short-term solution for this type of injury. Steroid injections to reduce inflammation are another treatment option, although they are usually only recommended for those who have a specific condition, such as carpal tunnel syndrome, that causes inflammation in a certain area.
Surgical Repair
Some repetitive stress injuries, especially those involving the nerves and tendons, can only be repaired with surgery. Unfortunately, many are unable to regain full range of motion, even after undergoing surgical intervention, so many doctors will only order surgery as a last resort when other treatments have been ineffective.
Physical Therapy
Some of the most effective treatments for repetitive stress injury involve hands-on therapies, such as physiotherapy, which focuses on posture, stretching, and performing certain exercises to strengthen and relax the muscles. This method often proves effective for those suffering from back, neck, and shoulder pain, or circulation issues.
Schedule a Free Consultation Today
If you are suffering from bursitis, carpal tunnel syndrome, tendonitis, a ganglion cyst, or another repetitive stress injury, you could be entitled to workers' compensation benefits to cover your medical treatment and supplement lost wages. To learn more, please call the Figured Law Firm at 570-954-9299 and speak with dedicated PA workers' comp lawyer Keith Figured today.
Resource:
nhs.uk/conditions/physiotherapy/