Drowsy Driving in Pennsylvania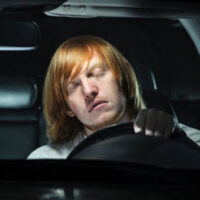 Drowsy driving has become an increasingly serious problem in the U.S. In fact, according to the National Highway Traffic Safety Administration (NHTSA), more than 91,000 crashes, 50,000 injuries, and 800 deaths were caused by drowsy driving in 2017 alone. Although it is possible to recover compensation from a driver who caused an accident by falling asleep at the wheel, doing so can be difficult, so if you were recently injured in a crash and believe that it was caused by a drowsy driver, it is important to contact an experienced car accident lawyer who can help you begin building a strong case.
The Dangers of Drowsy Driving
Like driving while under the influence, driving while fatigued seriously influences a driver's ability to operate a vehicle safely by:
Affecting the driver's ability to make reasoned decisions;
Making it harder for the driver to pay attention to the road; and
Slowing the driver's reaction time, making it less likely that he or she will be able to brake or otherwise avoid a collision or road hazard.
All of these behaviors make it much more likely that a person will cause a collision, whether a single-vehicle crash or an accident involving another vehicle.
Who is at Risk of Falling Asleep at the Wheel?
Although anyone can fall prey to drowsy driving, it is especially prevalent amongst certain individuals, including:
Drivers suffering from undiagnosed or untreated sleep disorders;
Motorists who are suffering from sleep deprivation;
Commercial truck drivers who are required to drive for long hours, often at night or during the early morning hours;
Drivers who take medications that could make them drowsy; and
Shift workers, who work particularly long hours.
Fortunately, by getting enough sleep, properly managing medications, and obtaining treatment for sleep-related medical conditions, these individuals can also take steps to avoid causing a fatigue-related accident, as can any driver who:
Notices frequent blinking or yawning;
Has difficulty remembering the past few miles;
Misses an exit;
Begins drifting from his or her lane; or
Repeatedly strikes the rumble strip on the side of the road.
Those who fail to take notice of these signs, however, and who cause an accident as a result, can be held liable for related losses.
Liability for Drowsy Driving Accidents
Although it can be difficult to prove that an accident was the result of drowsy driving, it is possible. For instance, photographs from the scene of an accident, medical records, eyewitness testimony, and footage from traffic cameras can all be used to demonstrate that a driver fell asleep at the wheel, which in turn, caused an injured party's accident. Plaintiffs who can fulfill these requirements could be eligible to recover compensation for lost wages, property damage, medical bills, and pain and suffering.
Contact a Wilkes Barre Car Accident Lawyer
To set up a free case review with a dedicated Wilkes Barre auto accident attorney, please call Keith Figured at the Figured Law Firm. A member of our team can be reached at 570-954-9299 or via online message.
Resources:
nhtsa.gov/risky-driving/drowsy-driving
cdc.gov/features/dsdrowsydriving/index.html
https://www.figuredlaw.com/parking-lot-accidents-in-pennsylvania/