Why Ignoring Stomach Pain After a Car Crash Could be Dangerous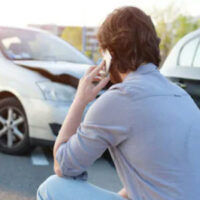 Most of the injuries that people sustain in car accidents are immediately apparent to the parties. A laceration or severely broken bone, for example, will be both painful and leave a physical mark. There are, however, injuries whose symptoms don't begin to show up for hours or even days after a crash. Often referred to as delayed symptom injuries, these injuries should not be ignored once they appear, as they could indicate serious internal damage, including seat belt syndrome. If you were injured in an accident through no fault of your own and have questions about recovering compensation for your losses, it is important to contact a Wilkes Barre auto accident lawyer who has experience providing links between collisions and delayed symptom injuries.
What is Seat Belt Syndrome?
One of the most common delayed symptoms from which car accident victims suffer is abdominal pain. Often referred to as seatbelt syndrome, these injuries are the result of the extreme force applied to the chest and abdomen because of the seatbelt's restraining effect. The force of impact can cause a wide range of injuries, including everything from internal bleeding to spinal fractures.
Internal Bleeding
Internal bleeding, or bleeding that occurs within the body due to blood vessel damage, is one of the most commonly sustained seat belt syndrome injuries. Internal bleeding can strain the circulatory system,  cause a major drop in blood pressure, and in some situations, can even be deadly. In some cases, internal bleeding can even lead to a deadly systemic infection. Symptoms of internal bleeding include:
Stomach pain;
Low blood pressure;
Shortness of breath;
Dizziness;
A loss of vision; and
Blood in the stool or urine .
Some of these symptoms may not show up for hours or even days after an accident, but could be indicative of a very serious abdominal condition.
Organ Damage
Organ damage, like internal bleeding, can go unnoticed and then present itself as increasing pain over a period of time. Without proper treatment, an organ could even fail, which in turn, could lead to the failure of other organs and bodily functions. The most common car accident-related organ injuries include:
Bowel obstruction resulting from blunt force trauma to the small intestine;
Peritonitis, which occurs when the silk-like membrane that surrounds the abdominal wall and protects a person's organs becomes inflamed;
Liver damage, including a ruptured or lacerated liver or bile ducts;
Tears in the abdominal muscles;
A ruptured spleen;
Traumatic appendicitis caused by the compression of the abdomen; and
Kidney trauma.
Organ damage can be fatal, so it is critical for car accident victims who suffer abdominal pain, to seek medical attention as soon as possible.
Consult a Pennsylvania Car Accident Lawyer
If you were involved in a car crash in Pennsylvania, you could be entitled to damages. To learn more about your legal options following a collision, please contact a Wilkes Barre auto accident lawyer at the Figured Law Firm.  You can contact us online anytime or by calling our office at 570-954-9299 to schedule an appointment.