Watch Out For These Winter Work Injuries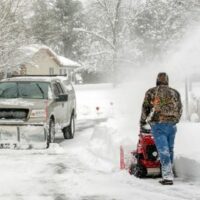 The onset of winter can create serious hazards for anyone who works outdoors. Snow, ice, and cold temperatures can, for instance, increase the risk of a workplace accident, like slipping and falling, but they can also place employees in danger of suffering from injuries like frostbite or hypothermia. While even an office worker could fall on the ice in a parking lot and suffer an injury, there are certain types of employment that do tend to be more dangerous than others when it comes to inclement weather. If you work in one of these industries and need help determining whether your own work-related injury is covered, please reach out to a dedicated Wilkes Barre workers' compensation lawyer today.
Workers at Risk of Suffering Cold-Related Injuries
Pennsylvania sees its fair share of inclement weather during the winter. Furthermore, the risk of snow, ice, sleet, and hail can last for months. Injuries occur during this time much more often than most people realize. For instance, the U.S. Bureau of Labor Statistics (BLS) estimates that more than 20,000 people suffer snow or ice-related injuries every year. These injuries tend to affect certain workers more than others, including those who are required to spend at least some of their time working outdoors, such as:
Snow cleanup crews;
Sanitation workers;
Emergency responders;
Construction workers;
Truck drivers;
Agricultural workers; and
Recreational workers.
Individuals who fill these roles are more likely to sustain certain types of injuries during the winter months.
Injuries Caused by Cold Weather
Exposure to overly cold temperatures can be extremely dangerous, causing the following injuries:
Hypothermia, which occurs when the body loses heat faster than it can replace it, causing the heart, nervous system, and other organs to malfunction and even fail;
Frostbite, which occurs when the skin and underlying tissues are damaged by the cold and often requires amputation; and
Trench foot, which occurs when the feet are exposed to cold water for a significant amount of time, resulting in tissue death.
Employers can prevent these kinds of injuries by providing workers with proper training and equipment and recognizing when temperatures are too low to allow for any outdoor activity.
Winter Weather Affects Workplace Safety
Besides exposing workers to cold temperatures, which can cause serious injuries, the winter months can also affect workplace safety by changing working conditions. The presence of snow and ice, for example, can increase the risk of slip and fall accidents, while also making traffic collisions and trucking accidents more likely. Working from heights after a heavy snowfall can also be dangerous, as the snow can easily hide electrical hazards and make surfaces more slippery. Fortunately, employees who are injured in this way can recover reimbursement for their medical expenses and a portion of their lost wages by filing a workers' compensation claim.
Contact a Work Injury Lawyer in PA
For more information on winter work injuries and the steps that you can take to start the workers' compensation claim process, please call the Figured Law Firm at 570-954-9299 or contact us online.
Resource:
bls.gov/opub/ted/2019/ice-sleet-and-snow-related-occupational-injury-and-illness-rate-down-in-2017.htm?view_full