What Are Work Restrictions?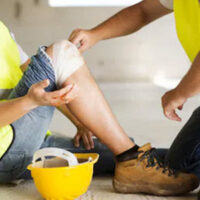 For many workers who sustain on-the-job injuries, returning to work is a top priority. Doing so immediately, however, is not always possible and it could be months or even years before a person is considered fully healed. It is, however, possible to go back to work, in a limited capacity, while still receiving some workers' compensation benefits. The nature of these restrictions will depend on the type of work in question and the nature and severity of the employee's injury. Whatever they are, employees must strictly comply with these work restrictions and lighter job duties or risk the forfeiture of the benefits. To make sure that you don't endanger your own benefits, please reach out to a dedicated Wilkes Barre workers' compensation lawyer who can review your case.
Light Duty and Modified Duty
Workers who sustain certain types of injuries on the job are often permitted to return to work before they are fully healed, albeit in a modified capacity and while still collecting workers' comp benefits. In these cases, a doctor will lay out strict limits to what an employee can do. Employers are generally required to provide light duty assignments that are compliant with these restrictions. An employer can, for instance, change certain tasks, reduce time spent on specific duties, or provide adaptive equipment for the worker.
Examples of Work Restrictions
Work restrictions can take a lot of different forms and are mostly dictated by the type of injury from which the employee is suffering and the type of work in which he or she is employed. Some of the most common work restrictions include orders to:
Avoid lifting heavy objects, although what qualifies as heavy will vary depending on the injury;
Avoid physically demanding activities, such as bending, squatting, lifting, carrying, or pushing;
Avoid standing or walking for extended periods of time;
Avoid reaching above shoulder level; and
Avoid high-stress, or high-anxiety situations.
If you were given a work restriction by a doctor, but are facing resistance from your employer, call our legal team today to learn more about your rights.
Permanent vs Temporary Work Restrictions
Work restrictions can either be temporary or permanent. Temporary restrictions usually remain in place for at least several weeks or months, but could end up lasting for years. These restrictions are applied in cases where a worker has healed enough to return to work, at least in a limited capacity, without aggravating an existing injury or impeding their ability to recover. Permanent restrictions, as the name implies, will remain in place for the rest of the employee's career and are usually only ordered when an injury is so severe that a worker is never expected to fully recover.
Were You Hurt at Work?
Contact dedicated PA workers' compensation lawyer Keith Figured at the Figured Law Firm if you are thinking about returning to work, but aren't sure if doing so will affect your eligibility for benefits. You can reach a member of our legal team by calling 570-954-9299 or by completing one of our online contact forms.
Resource:
dli.pa.gov/Individuals/Workers-Compensation/publications/Pages/LIBC-100-WC–The-Injured-Worker-Pamphlet.aspx#wc