What Kinds Of Workers Are Most At-Risk Of Developing Carpal Tunnel Syndrome?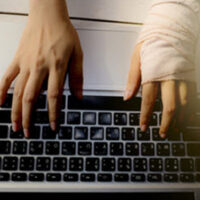 Many people fail to treat repetitive stress injuries, like carpal tunnel syndrome, with the respect they deserve. Carpal tunnel syndrome is a type of repetitive motion injury that occurs when repeated use of the hands and wrists compress the median nerve that runs up the palm of the hand. This compression can cause tingling, weakness, and pain in the hand and arm. While it may not seem as traumatic as other types of on-the-job injuries, it is still a potentially debilitating medical condition that can have adverse effects on employees for years to come. Fortunately, employees who sustain stress-induced injuries on the job are still often entitled to workers' compensation benefits.
Office Workers
Office workers are perhaps the demographic of employees that are most commonly associated with carpal tunnel syndrome. While these are not the only kinds of jobs that can result in carpal tunnel syndrome, it is true that office workers often engage in the kinds of tasks that can cause or worsen compression on the medial nerve. Holding the phone in a certain position and typing, for instance, can cause lasting damage to the hands, wrists, and forearms, causing crippling pain and disability. In fact, intense computer use (without regular breaks) is one of the most common causes of carpal tunnel syndrome amongst office workers.
Construction Workers
Because carpal tunnel syndrome is so often associated with office work, many people are surprised to find that some of the highest rates of carpal tunnel syndrome actually occur among construction workers. In this industry, workers are often required to repeatedly use percussive and vibrating tools for long periods of time, which can aggravate the medial nerve. Electricians, plumbers, carpenters, roofers, heavy equipment operators, and HVAC technicians are just a few of the kinds of jobs in the construction industry that can aggravate hand and wrist problems.
Manufacturing Workers
Those who work in manufacturing jobs are also more at-risk of suffering from repetitive stress injuries, like carpal tunnel syndrome. This includes factory, warehouse, and assembly line workers, who are often required to engage in the same repetitive motions as a part of their job, motions that often require gripping and carrying. Individuals who work in packaging may also be more likely to suffer from this type of repetitive use injury.
Food Service Workers
Restaurant and food service jobs, like chefs, waiters, bartenders, dishwashers, and food preparation workers are also required to work in fast-paced conditions that require a lot of hand and wrist strain. Stirring and whisking, carrying heavy trays, writing on notepads, and gripping a spray nozzle to wash dishes can all aggravate the nerves in the hands and wrists over time.
Contact Our Wilkes Barre Workers' Comp Legal Team Today
If you were recently diagnosed with carpal tunnel syndrome and are facing resistance when trying to collect workers' compensation benefits from your employer, don't hesitate to call Wilkes Barre workers' compensation lawyer Keith Figured at the Figured Law Firm today for help. You can also set up a meeting by reaching out to a member of our legal team via online message.
Sources:
mayoclinic.org/diseases-conditions/carpal-tunnel-syndrome/symptoms-causes/syc-20355603
hopkinsmedicine.org/health/conditions-and-diseases/carpal-tunnel-syndrome