Winter Driving Hazards: Icy Roads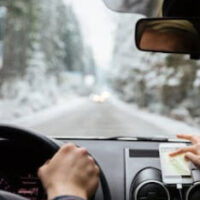 Pennsylvania is well-known for its brutal winter weather, including heavy snowfall, strong winds, and ice storms. These types of adverse weather conditions mean that Pennsylvania is often ranked amongst the deadliest states in the country for winter driving. In fact, the Pennsylvania Department of Transportation estimates that more than 8,932 accidents were attributed to snowy or icy conditions in the state in 2017 alone.
Poor road conditions can make the already complex undertaking of determining fault for an accident even more difficult, so if you were recently involved in a car crash and either you or another driver lost control of the vehicle as a result of the icy road conditions, it is important to contact an experienced car accident lawyer who can help you begin building a case.
Potential Liability
Icy roads are extremely dangerous to motorists and cyclists alike, as they are almost always accompanied by poor visibility and slippery conditions, which are made more dangerous by improper vehicle maintenance, such as worn tires. Which of these factors played a role in an accident is important when it comes to determining fault. If, for instance, a driver failed to replace his or her tires, that individual could be held partially liable for a resulting multi-car pile-up after losing control of the vehicle on an icy road. Even if ice was the main cause of a crash, courts will still usually find the driver of the first vehicle involved in a collision as the responsible party, as all motorists are required to adapt their driving to the conditions, which includes:
Leaving more space between the driver's car and other vehicles on the road; and
Driving slower than usual to increase reaction time.
If a court finds that a driver failed to take these steps and caused an accident after sliding on ice, he or she could still be held liable for at least part of the injured party's damages. It is also possible, however, for an injured driver to hold a city or the state itself liable if it is determined that the buildup of ice should have been prevented or addressed, but was not due to an agency's negligence.
Avoiding Winter Driving Hazards
Determining fault when icy conditions played a role in an accident can be complicated. Furthermore, these types of collisions tend to result in serious injuries, so it is in a driver's best interests to take extra care during the winter months, which includes:
Slowing their vehicles to maintain control over the car;
Leaving extra space between their vehicles and the cars of others;
Refraining from stopping or starting suddenly; and
Being extra careful on ramps, tunnels, and bridges, which freeze faster than normal roads.
Taking precautions and paying extra attention in snowy and icy conditions can make all the difference when it comes to preventing dangerous collisions.
An Experienced Car Accident Lawyer in Pennsylvania
If you were recently involved in an accident on an icy road, please call the Figured Law Firm at 570-954-9299 today to set up a meeting with a skilled and dedicated Wilkes Barre auto accident lawyer who can evaluate your case and explain your legal options.
Resource:
penndot.gov/TravelInPA/Safety/Documents/2017_CFB_linked.pdf
https://www.figuredlaw.com/why-ignoring-stomach-pain-after-a-car-crash-could-be-dangerous/