The Top 5 Chemicals Associated With Workplace Injury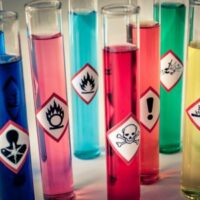 When most of us think about workplace injuries, we imagine broken bones from falls, or strain-related injuries, like carpal tunnel syndrome. While these are serious injuries that affect thousands of employees, there is another type of injury that is equally, if not more dangerous, because it often goes unnoticed for years. Exposure to chemicals and other harmful substances is one of the most common ways that U.S. workers are injured on the job. This is especially true for those who are employed in certain industries, including the manufacturing, construction, and restaurant industries.
We've included a list of the five types of chemicals that result in the most injuries for U.S. workers. If you were hurt after you came into contact with one of these, or another type of chemical in the workplace, reach out to a dedicated Wilkes Barre workers' comp lawyer for help.
Carbon Monoxide
Of the many types of chemicals that employees encounter in the workplace, carbon monoxide is one of the most common and dangerous. Carbon monoxide is an odorless and colorless gas that is created during combustion, and when it builds up in an enclosed space, can cause sudden illness and even death. The most common symptoms of carbon monoxide poisoning include headache, dizziness, nausea, vomiting, chest pain, and confusion.
Ammonia
Like carbon monoxide, ammonia is a colorless gas, although it has a distinct odor. Exposure to high levels of ammonia can cause burns on the skin, as well as in the mouth, throat, lungs, and eyes. Many of those who are injured by ammonia exposure work in the agriculture and food manufacturing industries, as the chemical is used to make fertilizers and is used as a refrigerant.
Chlorine
Chlorine is another toxic gas encountered in the manufacturing of many products, including plastics, refrigerants, aerosols, and foams and is also used to treat water and to bleach paper.  For this reason, most of those who are injured as a result of chlorine exposure, work in the manufacturing or recreation industries. Low levels of exposure can cause nose, eye, and throat irritation, while higher levels can result in chest pain, coughing, vomiting, permanent lung damage, and even death.
Hydrochloric Acid
Hydrochloric acid is a highly corrosive, mineral acid that is used in everything from manufacturing fertilizers and dyes to the production of household cleaners. People who are exposed to hydrochloric acid could suffer damage to their respiratory organs, eyes, skin, and intestines, some of which could prove permanent. Most hydrochloric acid exposure in the workplace occurs in the transportation and warehousing industries, where employees are required to wear goggles, gloves, and other protective equipment.
Sulfuric Acid
Sulfuric acid is a clear, oily, and corrosive liquid that is used to manufacture fertilizers, explosives, and glue. At high concentrations, sulfuric acid can cause serious chemical and thermal burns. Most injuries from sulfuric acid occur in the paper and metal manufacturing industries and can be linked to equipment failure.
Filing a Claim After Suffering a Workplace Injury
Please call the Figured Law Firm at 570-954-9299 to speak with an experienced Wilkes Barre workers' compensation lawyer about your own post-accident recovery options.
Source:
cdc.gov/mmwr/preview/mmwrhtml/ss6402a6.htm